Total Interest in Shale Gas
Anti-fracking protests fail to halt interest in shale gas
Other energy giants seem likely to follow in footsteps of Total, the first big oil company to invest in Britain's shale sector
www.theguardian.com/environment/2014/jan/12/anti-fracking-protests-corporation-interest
Terry Macalister
The Guardian, Sunday 12 January 2014 21.50 GMT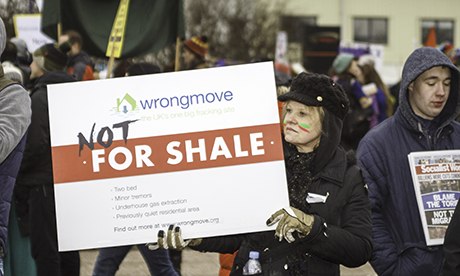 Anti-fracking protesters on the march in Salford. Photograph: Steven Purcell/Corbis
Hundreds of protesters were making their presence felt again at a fracking site in Barton Moss, Greater Manchester, on Sunday.
Since November a hardy group of campaigners have been protesting at the site – where planning permission has been granted to energy company IGas to carry out test drilling – reflecting the fears of environmentalists that exploring for shale gas is unsafe.
But their efforts seem unlikely to halt the tide of interest among corporations and the government. The French oil firm Total will on Monday become the first major oil company to announce plans to invest in Britain's fledgling shale sector, with about $50m (£30m) for gas exploration in the east Midlands. According to reports, it will pay $1.6m to acquire a 40% stake in two exploration licences in Gainsborough Trough, a geological basin in Lincolnshire believed to be rich in gas.
But there are whispers that other major oil companies such as Chevron, Conoco and Shell could soon follow Total and others, including Centrica and French giant GDF Suez, that have already taken a financial stake in the UK shale gas race.
Chris Faulkner, whose Breitling Energy Corporation is deciding whether to invest in Britain, says green groups move from one "safety scare" to the next in an attempt to chase the industry away. Even so, industry sources said, there was still much interest in fracking, which involves injecting water, sand and chemicals into shale rock to release oil and gas inside, and which the government hopes will push down energy prices.
"The process is starting to step up a gear now. A number of [existing] companies will be announcing plans for drilling and then there should be some bigger players joining in through the licensing round," said one shale industrialist who asked to remain nameless.
Another executive said: "A number of large foreign companies have been trying to understand as much as they can about the shale geology in Britain. It looks very likely they are gearing up to participate in the 14th licensing round."
The pioneers of the industry are stepping up criticism of anti-shale campaigners while warning the government that the arguments in favour of new gas supplies to replace dirtier fuels need to be made more loudly and widely.
"The enemy in this agenda is coal. Shale gas is the same as any other form of natural gas. If you use that locally you're supporting decarbonising, you're displacing coal and you're supporting renewables," said Andrew Austin, chief executive of IGas, the operator at Barton Moss.
Leading US industry figures such as Faulkner, known as the Frack Master, also press home the message about shale gas being a "transition fuel" in the race to tackle global warming.
But Friends of the Earth says all tax breaks, planning help and rhetoric in favour of fossil fuels should be shelved by the government although it declines to say whether oil and gas should be left in the ground.
"We should not be encouraging the further extraction and burning of oil and gas when what we need is the rapid deployment of new low-carbon technologies," says Dave Timms, energy campaigner at FoE.
The opposition in what became known as the battle of Balcombe in West Sussex came from local campaigners backed by environmentalists trying to halt a conventional oil well being drilled by Cuadrilla Resources.
There will be no differentiation in the 14th onshore licensing round – where companies take the first steps in developing land for extraction – between acreage which looks like it has the best shale prospects and traditional oil and gas. Shale prospects tend to sit deeper in the ground below traditional hydrocarbon reserves and are often much thicker in width.
The arguments for shale gas have become louder as British domestic and business consumers have been hit by a series of power price increases, culminating in Ed Miliband's promise of a 20-month price freeze if Labour wins power.
In the US, shale gas has replaced a lot of coal in power stations for generating electricity as the local price of natural gas has plunged from $15 per thousand cubic feet in 2005 to below $2 at one stage. Gas in the US is one-third the cost in Europe, while electricity is half the price.
However, there are mixed views about whether UK shale reserves, even if they are exploitable, can perform a similar trick. David Cameron has said that "fracking has real potential to drive energy bills down", while his chancellor, George Osborne, has said: "This a real chance to get cheaper energy for Britain … a major new energy source that can reduce energy bills."
But Lord Browne, the former BP boss who is now chairman of Cuadrilla as well as a non-executive director inside the civil service, has said: "We are part of a well-connected European gas market and, unless it is a gigantic amount of gas, it is not going to have material impact on price."
Certainly, gas import terminals in the US are being turned into export facilities, while the American Chemistry Council has just predicted that US chemical exports will grow by nearly 50% over the next five years.
The US was a net importer of chemicals barely two years ago and yet the Department of Energy and Climate Change in Britain believes that by 2030 this country could be 80% dependent on imports, given the dwindling North Sea supplies.
Ken Cronin, chief executive of the UK Onshore Operators Group, an employers' body, said the UK petrochemical sector provides tens of thousands of jobs at places such as the Grangemouth plant in Scotland, which was recently threatened with closure.
"The Institute of Directors has predicted that the shale industry could create 74,000 direct and indirect jobs within 15 years with peak investment of up to £3.7bn annually. That is a significant amount and much should go to UK suppliers."
The question of who provides services is a sensitive one. The Civitas thinktank has urged Whitehall "not to repeat its mistakes" of development of the UK's offshore wind industry. Some 90% of the contracts for prestige projects such as the London Array – the world's largest offshore wind farm, close to the Kent coastline – were placed abroad. It is owned by a consortium without any British involvement.
The scope for a repeat exists with shale. There are 2,000 onshore land rigs with 500 trained shale teams working in the US, while there are only 77 rigs and 10 fracking crews in Europe. The North Sea oil industry is already suffering from soaring wages and other costs owing to skill shortages and it is not clear who would be on the frontline of any British shale revolution.
Other arguments against shale say it would take at least 10 years to bring supplies properly on stream and there is no guarantee that production would not just be exported.
But environmentalists remain most solidly opposed to extraction on the basis of safety. The energy department may have lifted its moratorium after test drilling by Cuadrilla produced the Blackpool earthquakes, but there are still concerns about fracking chemicals leaking into water supplies.
Friends of the Earth says the UN environment programme has warned that "fracking may result in unavoidable environmental impacts even if [gas] is extracted properly".
Greenpeace climate campaigner Lawrence Carter says: "Total, a French company who can't frack in their own country because the French government has stopped the French countryside being ripped up, have now turned their sights on the UK countryside, where the UK government seem happy to allow the industrialisation of our green and pleasant land. The UK government seem deaf to the risks fracking poses to our environment and local communities and are pushing ahead with selling off two-thirds of Britain for drilling without a public mandate."
Posted on: January 13, 2014