Fracking could be allowed under homes in Britain without owners' knowledge
Planning minister says law will be changed so companies do not have to directly notify people about gas drilling in their areas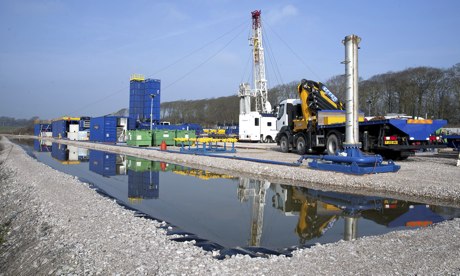 A shale gas drilling rig in Weeton, near Blackpool. Photograph: FLPA/Alamy
Fracking could take place under thousands of homes without their owners' knowledge after ministers said companies would no longer have to notify people directly about potential gas drilling in their areas.
Nick Boles, the planning minister, said the law would be changed to allow gas companies to put in fracking applications without sending out letters to tell people about possible drilling beneath their properties. Instead, companies will be required to publish a notice in a local newspaper and put up site displays in local parishes, as well as conducting a wider consultation.
Campaigners said the announcement was a blow to all communities likely to be affected by fracking, following concerns about minor tremors caused by test drilling for shale gas near Blackpool, and the potential for flaring, air pollution and contamination of water.
However, the government said it would be too burdensome for gas companies to tell everybody within a wide radius of drilling that it might take place under their homes.
It would mean a "disproportionately large number of individuals and businesses" would have to be personally informed, Boles told MPs in a written statement.
Ministers have repeatedly dismissed safety and environmental concerns about fracking, saying it will be tightly regulated and developed responsibly.
The announcement comes after a report on shale gas found two-thirds of the UK's land could be made available for fracking companies to license, with new areas opened up in the Midlands, Cumbria and Wales.
The technology uses high pressure water and chemicals to fracture underground rock and release trapped gas. Because it takes place many miles underground, the companies themselves may not know precisely where they are drilling.
"The associated underground extraction takes place very deep below the Earth's surface, over a wide geographical area," Boles said. "As a result, it is often not possible to identify the exact route of any lateral drilling.
"Without the changes to the secondary legislation, the widely drawn area on planning applications for onshore oil and gas projects would require the notification of a disproportionately large number of individuals and businesses. This would be unnecessarily excessive when other forms of complimentary notification exist."
Tony Bosworth, energy campaigner for Friends of the Earth, said it was unacceptable when the government had already accepted that fracking could have "potentially significant local impacts".
"People should be notified personally if firms want to drill or frack for oil and gas under their homes. Removing that right is a further blow to local communities who are rightly concerned about the impacts of fracking," he said. Ministers should be strengthening rules to protect local people, not weakening them in yet another sop to an industry that wants to keep us hooked on dirty fossil fuels."
David Cameron has heralded the potential for shale gas to bring down household energy bills like it has in America, where there has been huge exploitation of the new resource.
However, many MPs are nervous about the prospect of new drilling for shale gas in their constituencies and there have been high-profile protests from Blackpool to Balcombe in Sussex about the possibility of shale gas drilling in these areas.
Posted on: December 18, 2013