Pilliga coal seam gas operation to continue despite damage to aquifer
NSW says it will not bow to pressure to halt gas operations after Santos was fined $1,500 for contaminating groundwater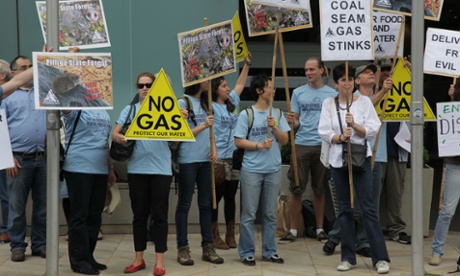 The New South Wales government has said it will not bow to pressure from farmers and environmentalists to halt coal seam gas operations, after Santos was fined for contaminating a groundwater aquifer.
Santos, a coal seam gas company, was fined $1,500 by the NSW Environment Protection Authority (EPA) due to leaks from its storage ponds.
Groundwater testing showed elevated levels of arsenic, lead and uranium, although Santos disputes that an aquifer was contaminated, instead calling the area a "shallow perched layer" that could not sustain domestic or irrigation supplies.
Farmers and environmentalists say the fine is evidence that coal seam gas operations in the Pilliga forest in north-west NSW should be banned. NSW Labor has called on the state government to tear up a memorandum of understanding with Santos to fast-track the project – an agreement signed shortly after the EPA sanction.
A NSW government spokesman said this agreement will run its course as it sets out a number of processes the project needs to meet before it take place.
Coonamble farmer Mark Robinson, who travelled to Sydney on Monday to lobby the government, told Guardian Australia that the contamination was his "worst nightmare".
"Santos say the toxins are naturally occurring, but so what? Why would you release that and poison the aquifer?" he said.
"That area of NSW is having its worst drought on record. We're coming up to two years since there was rain of 20mm or more. The dams have dried up. That means graziers and farmers are totally, 100% reliant on groundwater systems.
"I think anyone who understands how important this water is to jobs, farms and towns in this area, an area which is a large food producing ground, will know that a company's quick profit on an Asian boom has to come second."
Robinson, along with his wife Cherie, is due to face court on 25 March after disrupting initial drilling work by Santos.
"The $1,500 fine Santos got was little more than a traffic fine, we'll probably be paying more than that for protecting our farm and our water," Robinson said.
"Farmers in our 50s have had to become serious activists to get the state government to help us protect our homes and the nation's food bowl. It's crazy, I have to pinch myself that it's happening."
Drew Hutton, president of the anti-coal seam gas group Lock the Gate, said: "Gas fracking giant Santos has a long tragic history of failure in the Pilliga. The wastewater dam that caused this pollution seems to have been leaking continuously since 2007, and it is still being used by Santos. The company simply doesn't know how to deal with the toxic waste it creates.
"Deputy premier Andrew Stoner fast-tracked Santos's plans for the region just two days after they were fined for poisoning the aquifer. Premier Barry O'Farrell should now fast-track an end to this dangerous industry in NSW, and kick Santos out of the Pilliga immediately."
Posted on: March 11, 2014